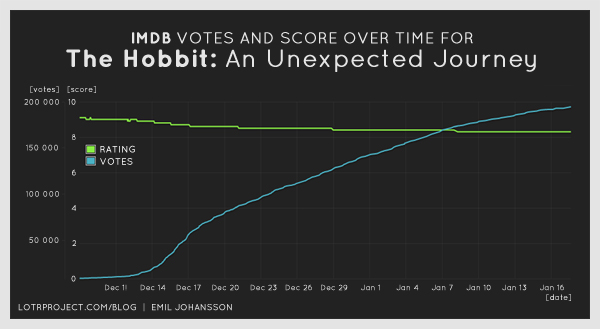 Shortly before the official release of the Hobbit: An Unexpected Journey I decided I wanted to collect data on how the votes for the movie changed over time. This may strike you as a bit of an odd thing to do but I am truly fascinated by data and very curious minded. I wanted to know how both the critics and the public responded to the movie and set up a web page.
Since I started collecting data from IMDB on the 8 December I have grabbed 508 data points containing both vote count and score. You may recall that the movie had its premiere in Wellington on 28 November and I believe IMDB opened voting shortly thereafter. I do not know how many people they fit in the St. James theatre in Wellington at the premiere but probably not more than would fit in the 3000 seats. It may therefore come as surprise that on the 8 December there was already 8495 votes and 9.1 in score.
At the top of this post you see a graph of the data points up until today, 17 January. There are currently 194 464 votes and a score of 8.30. I have to admit this is a lot higher than what I expected given the negative reviews.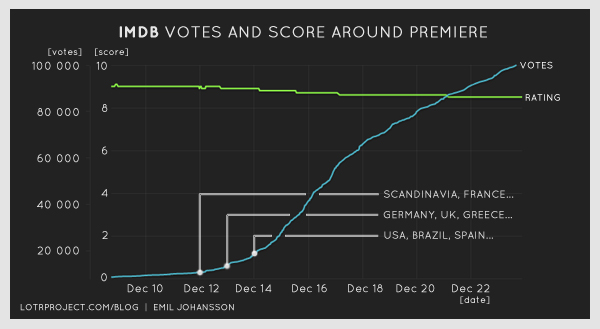 In the graph above you can see how the votes quickly rose from around 8000 to 100000 after the premiere. The highest increase in votes per day was on the 17th of December with roughly 10500 new votes. I listed just a few of the prominent countries with their premiere dates. For a full list, see the IMDB website.
Now, when I looked at the data the first few days and there were not many new votes each hour I noticed something curious.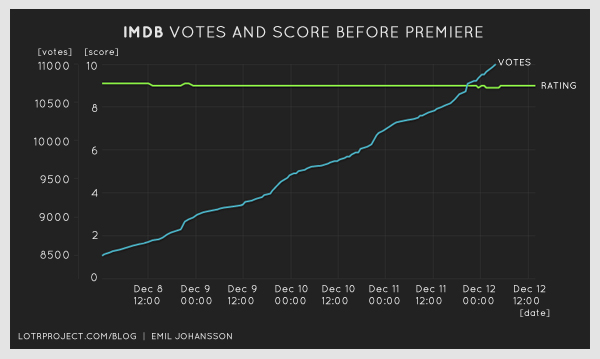 As you can see above the increase in votes before the premiere was very modest which is what you would expect. However, around 20:00 Swedish time each day there is a significant boost in votes compared to the rest of the day. I have still not figured out what cause this strange behavior. It may just be that there are a lot of people voting at that particular hour but I have a feeling it has something to do with how IMDB count votes. Perhaps they run a calibration?
If you think of any visualization of this data I have missed please tell me in the comments and I will add it. This experiment was very spontaneous and I may do it more seriously next time.