The works of J.R.R. Tolkien are an endless source of great quotes. Many lists have been made with those who can be considered to be of the more inspirational kind, such as "Not all those who wander are lost". While these are undoubtedly very beautiful, I wanted to highlight some passages in which he describes evil.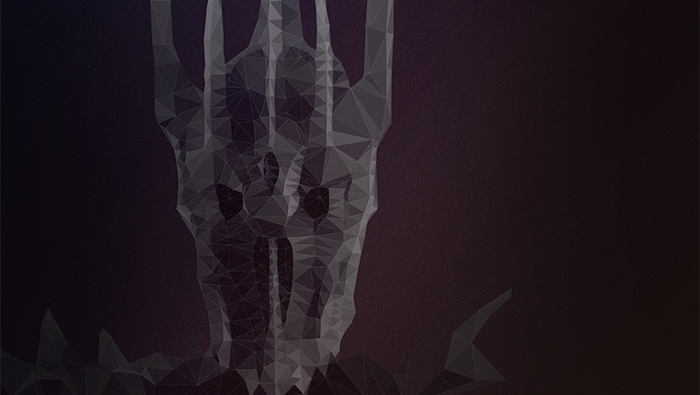 "My armour is like tenfold shields, my teeth are swords, my claws spears, the shock of my tail is a thunderbolt, my wings a hurricane, and my breath death!"
– Smaug in The Hobbit, Inside Information
Sauron was become now a sorcerer of dreadful power, master of shadows and of phantoms, foul in wisdom, cruel in strength, misshaping what he touched, twisting what he ruled, lord of werewolves; his dominion was torment.
– Description of Sauron, in The Silmarillion, Quenta Silmarillion: Of the Ruin of Beleriand and the Fall of Fingolfin
Now news came to Hithlum that Dorthonion was lost and the sons of Finarfin overthrown, and that the sons of Fëanor were driven from their lands. Then Fingolfin beheld… the utter ruin of the Noldor, and the defeat beyond redress of all their houses; and filled with wrath and despair he mounted upon Rochallor his great horse and rode forth alone, and none might restrain him. He passed over Dor-nu-Fauglith like a wind amid the dust, and all that beheld his onset fled in amaze, thinking that Oromë himself was come: for a great madness of rage was upon him, so that his eyes shone like the eyes of the Valar. Thus he came alone to Angband's gates, and he sounded his horn, and smote once more upon the brazen doors, and challenged Morgoth to come forth to single combat. And Morgoth came.
– The Silmarillion, Quenta Silmarillion: Of the Ruin of Beleriand and the Fall of Fingolfin
Gothmog, Lord of Balrogs, high-captain of Angband, was come; and he drove a dark wedge between the Elvenhosts, surrounding King Fingon, and thrusting Turgon and Húrin aside towards the Fen of Serech. Then he turned upon Fingon. That was a grim meeting. At last Fingon stood alone with his guard dead about him; and he fought with Gothmog, until another Balrog came behind and cast a thong of fire about him. Then Gothmog hewed him with his black axe, and a white flame sprang up from the helm of Fingon as it was cloven. Thus fell the High King of the Noldor; and they beat him into the dust with their maces, and his banner, blue and silver, they trod into the mire of his blood.
– The Silmarillion, Quenta Silmarillion: Of the Fifth Battle: Nirnaeth Arnoediad
"But suddenly the Mirror went altogether dark, as dark as if a hole had opened in the world of sight, and Frodo looked into emptiness. In the black abyss there appeared a single Eye that slowly grew, until it filled nearly all the Mirror. So terrible was it that Frodo stood rooted, unable to cry out or to withdraw his gaze. The Eye was rimmed with fire, but was itself glazed, yellow as a cat's, watchful and intent, and the black slit of its pupil opened on a pit, a window into nothing."
– Frodo seeing Sauron in The Fellowship of the Ring, The Mirror of Galadriel
"The Black Rider flung back his hood, and behold! he had a kingly crown; and yet upon no head visible was it set. The red fires shone between it and the mantled shoulders vast and dark. From a mouth unseen there came a deadly laughter.
"Old fool!" he said. "Old fool! This is my hour. Do you not know Death when you see it? Die now and curse in vain!" And with that he lifted high his sword and flames ran down the blade."
– Gandalf's encounter with The Witch-King of Angmar in The Return of the King, The Siege of Gondor
"Come not between the Nazgûl and his prey! Or he will not slay thee in thy turn. He will bear thee away to the houses of lamentation, beyond all darkness, where thy flesh shall be devoured, and thy shriveled mind be left naked to the Lidless Eye"
– The Witch-King of Angmar to Éowyn in The Return of the King, The Battle of the Pelennor Fields
Concerning the Three Rings Sauron could learn nothing from Celebrimbor; and he had him put to death. But he guessed the truth, that the Three had been committed to Elvish guardians: and that must mean to Galadriel and Gil-galad. In black anger he turned back to battle; and bearing as a banner Celebrimbor's body hung upon a pole, shot through with Orc-arrows, he turned upon the forces of Elrond. Elrond had gathered such a few of the Elves of Eregion as had escaped, but he had no force to withstand the onset.
– Unfinished Tales, The History of Galadriel and Celeborn
"I kill where I wish and none dare resist. I laid low the warriors of old and their like is not in the world today. Then I was but young and tender. Now I am old and strong, strong strong."
– Smaug in The Hobbit, Inside Information